WARNING: If you've ever received a loan or borrowed money it could be used against you in the court of law.
As desperation set in, the State of Michigan prosecution tried to persuade the jury into believing that Mr Jasper was a manipulative person based solely on the fact that he "convinced" a bank to give him a loan many years ago for his business.
It was almost as if the prosecution was suggesting he was a former member of the X-Men possessing some type of special ability to control the minds of others.
Setting a scary and dangerous precedent, the prosecution made very clear that if you've "made a living" from a small business loan that you are prone to commit crime through the use of manipulation.
Many onlookers were left in shock and confusion as to how the simple and common act of borrowing money, something almost every person in the United States will do at some point, could have an impact on whether or not you are guilty of an unrelated crime.
The grounds for this case were never clearly established.
Many sat in suspense awaiting the State of Michigan to present some type of compelling evidence or at least a credible witness that would give this case some basis and justify the enormous taxpayer expense of a multi-day trial, but it never came.
As the medical examiner that tended to the victim after the alleged assault took to the stand the only thing we learned is that the victim had been cleared with nothing more than a small bruise that appeared to be days old.
Further confusing was that this examination fell directly in line with what was reported by the prosecution's own key witnesses — with the exception of the victim's current boyfriend.
Metaphorically speaking, the victim's boyfriend, a superhero in disguise came to the aid of his damsel in distress, took off his glasses, ripped off his shirt revealing his Superman outfit, and took to the stand.
Being one of the first on the scene he began to describe the horrific bruising, cuts, and possible bleeding that he witnessed on the victim.
Unfortunately for her boyfriend, witnesses are sequestered from the trial so he was not able to hear the testimony given by the medical examiner just prior that contradicted everything he just told the Jury.
A very short body cam video was also introduced from one of the officers that first arrived on scene that supposedly showed the victim crying but gave no explanation as to why.
The officer conducted a brief examination of the victim and the alleged crime scene and reported nothing out of the ordinary.
The closing arguments presented by the Prosecuting attorney for this case can be summed up as such:
"This woman is crying and upset we must convict someone of a serious criminal offense without any evidence whatsoever and because Mr Jasper was named by the alleged victim as the "culprit" we must convict him because he's a manipulative person that received a small business loan long ago and makes a living "convincing people", therefore I ask the jury to convict him of these crimes although I've provided no evidence whatsoever, but we need justice for the victim because she's upset so please send this successful hardworking well respected man of the community to prison for potentially life to ease her suffering, thank you."
If that didn't make sense to you, then perhaps you'll find this video more enlightening.
The prosecution continued to hammer away at the mental anguish the alleged victim was experiencing, however, the prosecution did not in any way attempt to connect this mental anguish to anything related to Mr Jasper.
Not a single mental health professional was called as a witness.
As far as the Jury and onlookers were aware, not a single Psychological Evaluation had been conducted — no counseling, no therapy, no diagnosis, and no prognosis.
If the alleged victim suffered so much, why was no help sought in over a year since this alleged crime took place?
As the defense lawyer, Mr Stupak, pointed out to the jury, people cry for many reasons. People cry because they are happy, sad, angry, excited, nervous, and even because they are regretful.
How was the jury supposed to hold Mr Jasper responsible for the emotional state of another person without any evidence or testimony indicating he was responsible in some way?
I have a possible explanation.
Maybe the Prosecution was an X-Men fanatic that truly believed that not only did Mr Jasper have special powers, but all 13 members of the jury had the ability to read minds as well.
Perhaps the State felt that all 13 jurors were well versed in the field of psychology and able to conduct an on the spot psychological evaluation, a process that takes a professional 2-3 hours or more, by simply observing a crying woman on the stand.
Who knows what the Prosecution was going for here, it remains a mystery.
There were many gaping holes in the case presented by the Prosecution.
Shortly after the alleged incident, Mr Jasper was pulled over on his way back to Menominee by a State Trooper that had been informed there was some altercation that had taken place at the victim's house involving Mr Jasper.
After briefly discussing the incident and getting details, Mr Jasper was free to go.
Mr Stupak questioned why he was not detained if such a serious crime had taken place just shortly before and the Prosecution responded in the most baffling way imaginable.
The prosecution's response, I shit you not, was that sexual assault charges take a lengthy investigation so they couldn't arrest him on the spot.
WHAT??
Did the prosecution forget they were also charging Mr Jasper for Home Invasion??
It was one of the core and necessary elements they were using to try to convict him of Sexual Assault.
A serious question to the reader.
When hasn't breaking and entering, which is far lesser than a home invasion, resulted in an immediate arrest?
How about domestic disputes or any type of assault and battery?
I don't know about you but I personally know of and have heard of people being arrested for far less serious crimes, but somehow if you are suspected of home invasion and sexual assault, there's no need for an arrest?
If there was any suspicion Mr Jasper had committed any of these crimes why was he not immediately detained by the State Trooper?
The answer is simple.
After investigating the details of the incident the State Trooper and County Police involved felt no such crime(s) took place.
So why was it added as a charge against Mr Jasper many months later?
The answer to this is also very simple.
It was added because it was a necessary and vital component to convict Mr Jasper of Sexual Assault.
Let me rephrase that.
It was merely added after the fact for the convenience of the prosecution.
If that does not scare you, it should.
This means that someone took the time to sit down and come up with an arbitrary list of charges they wanted to try Mr Jasper for and included all the necessary elements as charges, such as Home Invasion, to try to convict him.
This isn't a case of Breaking and Entering being escalated to Home Invasion.
This isn't a case of Assault being escalated to Sexual Assault.
This is a case of nothing being turned into something, and not just by the alleged victim, but by State.
Who or what compelled the state to take such action?
We continue onward still with more gaping holes in the case.
To further confuse the jury the "victim" gave at least three conflicting accounts of what happened to her to various police officers and medical examiners and not just minor details that are excusable.
On one report to police she opened the door for Mr Jasper, on another they opened it together, yet on the medical examination report he took her keys and let himself in, and these were not the only major inconsistencies with the victims "evolving" testimony.
At the end of the day, the Prosecution had no credibility and no case, if they ever had one to start with.
Yet, so many questions remain, not about the case, but about the Prosecution and the State of Michigan.
If you can be tried for a serious offense with almost no evidence whatsoever, where does it stop?
How long until the State becomes so good at manipulation that it sways a jury to put an innocent person behind bars without having any evidence whatsoever, just like they attempted in this case?
Why did the state even attempt this case knowing full well there was no way to prove this case beyond a reasonable doubt?
This case was so weak that the jury reached a unanimous decision of not guilty on all three accounts in merely 90 minutes.
After hearing the evidence not even a single person was willing to entertain the possibility that Mr Jasper may have committed any of these crimes.
Mr Stupak is nothing short of a hero, not only did he make sure an innocent man went free but he also stood up to the overreaching power of the State of Michigan in this case.
He made sure the jury knew that every citizen in the United States is presumed innocent until proven guilty beyond a reasonable doubt and that the burden of proof is on the State.
His closing arguments were nothing short of applause worthy, in fact, many of us made a motion to clap before realizing where we were and stopping ourselves.
And as the verdict of the jury was read, Not Guilty on all 3 accounts, Mr Jasper burst out in uncontrollable tears of joy, knowing today justice had prevailed. And everyone around him teared up, as the truth they had known all along, was now the final truth.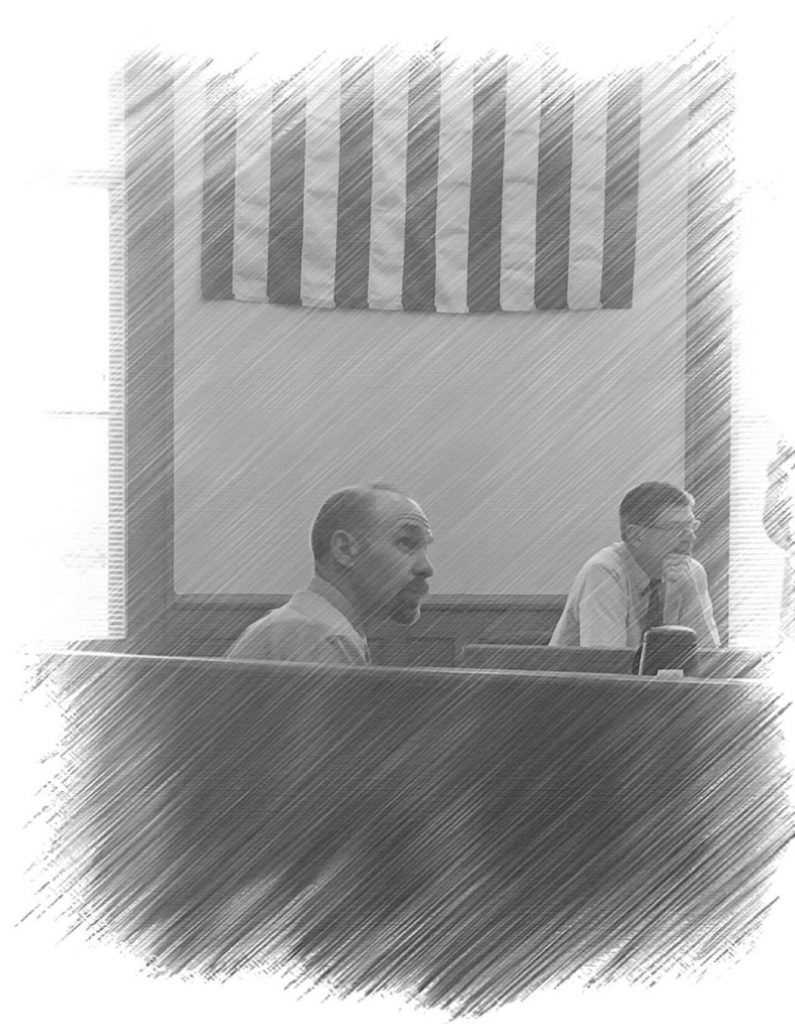 Mr Stupak shook hands, gave out hugs, and congratulated Mr Jasper and his family on his restored freedom, and then as he told Mr Jasper to have a good night with a smile on his face he quietly exited the courtroom knowing that his work here was done.
But you could see in his eyes, that moments like these were what he lived for. Moments like these were the reason he became a lawyer, to defend the innocent and wrongly accused.
And as I watched him walk down the hallway to exit the courtroom all by himself, it all became surreal.
His job now done, no celebration or praise required, the lone ranger of justice quietly rode off into the setting sun.
If you just skimmed the article, you can pretty much see the summary of the case in the video below.